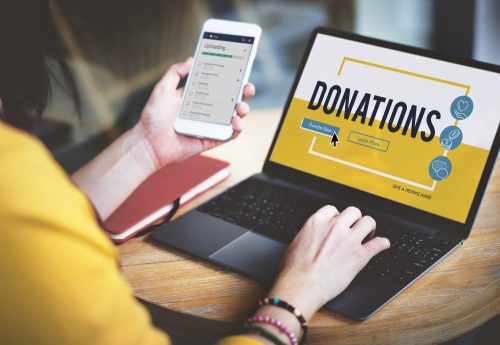 If you have wanted to give more to charity, you are not alone. With so much going on worldwide (the pandemic, inflation, the Ukraine war and other humanitarian crisis), more and more people want to help. Now more than ever, people are continually approached with donation requests via direct mail, emails, phone calls, crowdfunding sites, and other online giving platforms.
Research, Research, Research
So how do you know which charities are legitimate? With almost two million non-profit organizations to choose to donate to, it is important to have some help. Thanks to the Federal Trade Commission, you can be prepared to give without being scammed in the process. You can go online and search for what is important to you. According to the FTC, you can type in the charity name along with "complaint," "review," "rating," or "scam" and get your answer!
One good thing is that researching charities has never been easier, thanks to the internet. Answers are always at your fingertips, including checking out a non-profit with the help of a charity rating service.
Top Charity Rating Services
-Charity Watch
-Charity Navigator
-GuideStar
-Better Business Bureau
Additionally, there are cryptocurrencies you can donate to but beware of scammers that can sideline your donation instead. Check out What To Know About Cryptocurrency and Scams to learn more to protect yourself from falling prey to scammers. You also need to be aware of what payment you use. If a charity is asking for donations in cash, a gift card, or having you wire money, stop right there because that is a scamming tactic. Better to pay using a credit card or check. Another tip the FTC recommends is notating your donations so you can keep track of them and check your statements to ensure more was not charged.
Red Flags
-You should double-check that the donation is not recurring without your consent.
-If someone is pressuring you to make a donation, beware.
-If you want to help out locally, be aware that someone scamming you can alter their caller ID so it looks local to you.
-A legitimate charity will tell you exactly where your donation is going and how it is helping.
-Some scammers claim your donation will be tax-deductible when in reality it is not, and tax-exempt does not automatically mean your donation will be tax-deductible.
-Know that a legitimate organization won't guarantee your donation qualifies for sweepstakes winnings.
Online Tools
You can always report donation scams to ReportFraudftc.gov You can also refer to the IRS's Tax Exempt Organization Search to see whether the donation you make is actually tax deductible or not. Get the organization's Employer Identification Number (EIN) from the Internal Revenue Service (IRS). Go to the IRS website at IRS.gov and check the Tax-Exempt Organization Search (TEOS) tool to see if their tax-exempt status is legitimate. You can always search by name, specific database, city, state or country. If you want to donate in your state, consult National Association of State Charity Officials (NASCO), which lists charities.
Reach out to the charity and ask for information about their goals and how many people they have helped. Review their most recent annual report and a copy of the IRS Form 990 (which shows the charity's finances and activities like grants, fundraising fees, program revenue, and employee salaries). By taking some time to research potential charities, your money can make a big difference in the world today.
Contact Corporate Capital, Inc.
We hope this information helps you to donate more confidently while helping others. We invite you to reach out to our Corporate Capital team in Las Vegas, Nevada, by calling our team at 855-371-0070 to find out more about what we can do for your company!
Article Sources:
FTC: How to Donate Wisely and Avoid Charity Scams
Green Leaf Trust: How to Donate Wisely and Avoid Charity Scams