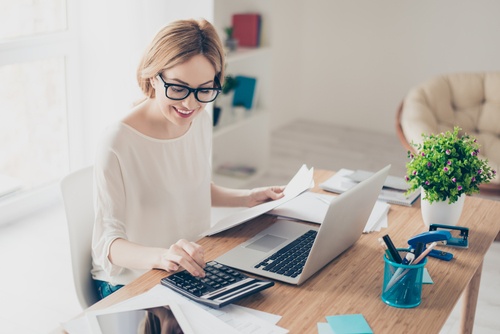 At Corporate Capital, we can't stress enough how valuable a good bookkeeping and accounting service is for your business, and in fact, may even depend on it! If you have been trying to juggle the books yourself, you might want to reconsider this tact, especially now as you start a new year and possibly wanting to implement more beneficial changes to make your day-to-day business run more smoothly and effectively.
This is a good time to consider expanding your business team by hiring an outside party to take over this crucial aspect of your business. At Corporate Capital, we firmly believe that our clients should invest their energy into growing their business and allow us to "do what we do". With this partnership, we ensure our clients have accurate P&L's and balance sheets so they can make educated decisions for their businesses and leave out the guesswork.
-Opportunity Costs vs. Controlling Expenses: As with most aspects of running your business, maintaining your books takes time. This might be time you could be spending on other areas of your business, particularly if you are not an accountant or aren't familiar with bookkeeping software. Instead of expending valuable time meticulously entering transactions in your ledger, you can place your focus on other areas of your business that need your attention. Especially since there is a monetary amount related to how much your business could be making as you handle those crucial areas instead of spending it keeping up your books. In this case, time really is money, even with the added expense of a bookkeeping service handling the books.
-Accuracy: A bookkeeping service brings with it accounting experience or accounting certification. This level of expertise means they bring with them the ability to enter daily business transactions and classify them for accuracy while being maintained in your books. This has the added benefit of helping with any pre-tax planning you also need to be doing. A bookkeeping service hits the ground running to keep the accounting of your business up-to-date. That's a whole other ballgame than juggling this task yourself in between your day's other work, or maybe even procrastinating and putting this aspect of your business to the side while handling other pressing tasks. A bookkeeping service will ultimately help keep you focused on those other essential areas of your business with the confidence that the accounting is being handled properly without cutting any corners.
-A Neutral Third Party: If you run your business in partnership with someone else, you know how important trust, communication and accuracy actually are. Even with those aspects in place, if someone accidentally makes an error in data entry, or somehow does manipulate the books for their benefit, this arrangement can break down the relationship you have with your business partner. Whereas an outside bookkeeping service is a neutral third party so you will be able to avoid bookkeeping issues that could jeopardize your partnership through a conflict of interest.
-Outsourcing: Whether you need a part-time bookkeeper or a full-time accountant, outsourcing the job via a bookkeeping service can take over that area of your business so you have one less thing to worry about during your day while also saving you the expense of salary and benefits for the person hired within. Modern internet technology is better than ever before, expediting almost immediate communication with those outside of your company as you share files. What most business owners don't understand is that it takes seconds to create "accountants access" for your bank accounts and other statements such as credit cards. This means once we have access you don't have to worry about sending reports or financials to us. We are able to log directly into your account and handle the day to day transactions. What is unique with our firm is that one of the partners in the business is a CPA so your bookkeeping and accounting are watched over with a careful eye!
Corporate Capital Bookkeeping
Working with our bookkeeping service is easy, safe and efficient. Your data is entered in QuickBooks online, where it is continually backed up and protected by state-of-the-art security and encryption. You'll also be able to see your company's data via any internet source through QuickBooks online. You will have copies of credit card statements, deposits, bank statements, check register and receive a monthly reconciliation of general ledger accounts and bank statements. You can also work with our team on your current tax liability and finances.
You'll also receive the following:
-A quarterly review of profit and loss
-Estimated Nevada tax liability
-Fixed asset list
-An itemized detailed list
-Advice on plan setup and tax strategy for balancing excess profits you received
-A reconciliation of year-end general ledger accounts, 1099 tax forms, and financial statement preparation
If you have set goals for this new year to make your business run better than ever while focusing on long-term goals and streamlining your accounting and bookkeeping departments, we can help! Our experienced financial professionals at Corporate Capital are ready to simplify this process for you. We can fulfill your expectations with a custom-tailored bookkeeping plan that best fits your goals. We welcome you to reach out to our Corporate Capital team at 855-371-0070 today if you are looking for bookkeeping or payroll services in Nevada.