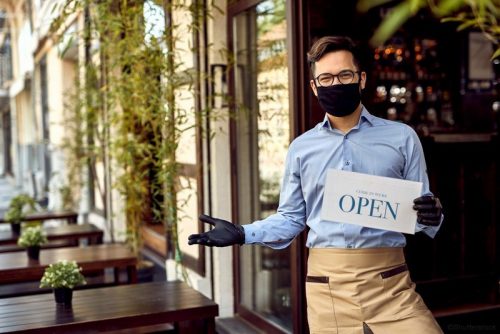 Many small businesses have found themselves struggling or changing the way they run their business because of COVID-19. As your business goes back to a new normal, there are some things you can do to rebuild your business for success.
Rebuilding Starts With Planning
Gather and use feedback: Interact with your customers, whether that means social media updates or providing in-depth information through emails or monthly newsletters. Let your customers know how your business is responding to the coronavirus pandemic, how you are helping the community and how your day-to-day operations have changed.
Determine the financial damage: To assess how your small business has been affected, update the business financial statements (profit and loss, cash flow statements, etc.) and compare them to last year's numbers. Have you laid off employees? Cut the advertising and marketing budget? Lost customers? Don't forget to assess your existing inventory to see how it holds up to market demands.
Take a second look at your business plan: Your business model may need to be fine-tuned to adjust to a new normal because of the coronavirus pandemic. While relying on foot traffic for a brick-and-mortar location previously worked for sales, you may need to consider digital expansion for customers who are now shopping mainly from home. As you rebuild, now is a great time to focus on finding opportunities your business can fulfill moving forward. Get clear on your business's strengths and weaknesses to stay competitive and that your goals are realistic under these current circumstances.
Assess whether you need funding to recover: Infusing your business with working capital can help jump-start your business operations as your company emerges from the pandemic. The SBA is an excellent resource for business loans, for starters. Programs like the Paycheck Protection Program, gives funding to small businesses struggling to keep employees during the pandemic. Likewise, Economic Injury Disaster Loans provide short-term financing if you need cash for items other than employee retention.
Additional Small Business Funding Options:
Accounts receivable financing
Business lines of credit
Business credit cards
Equipment financing
Inventory financing
Merchant cash advances
Purchase order financing
Small business term loans from banks, credit unions & online lenders
Traditional SBA 7(a) loans & microloans
Vendor tradelines
Revamp your budget to include new spending: Emerging from the pandemic might mean spending money before you can make money. Hiring and training new employees, rehiring employees you laid off, investing in inventory or up your advertising budget to anew. Lower your monetary waste to get your operating budget as lean as possible so you can grow as needed.
Building confidence in your employees: Now is the time to focus on helping your employees through the global crisis, especially if they are experiencing financial stress. Retaining your employees is a vital part of your rebuilding strategy. Studies show that each new employee takes anywhere from three to four months before hitting the same productivity numbers as your current employees. Invite your staff to offer ideas as you map out your plans for rebuilding and reshaping the company. Let them know you value their input.
Create a rebuilding timeline: Set a timeline to follow for your rebuilding plans. Prioritize the most essential actions first like funding for your business,setting a timeline to rehire, restocking inventory and reopening your doors. Be sure to track your progress to see what's working and what's not.
Incorporate a more digital workplace: Technology and digital capabilities are reshaping how business is following this global pandemic. Investing in technology may not be an option so much as a new normal. This means leveraging the new digital working order to your advantage. Strive to deliver lasting value to your business, enhancing the customer's experience and increasing your employee satisfaction.
Tools That Help:
The Cloud: This secure platform can be accessed anywhere, anytime without depending on physical data centers.
Anything-as-a-Service: These include software services, activities, processes and functions. Assess which services your business can handle internally and which would be best outsourced or handled as-a-service.
Rapid Automation: Most small and medium businesses lean towards manual processes and tasks. Assess whether you can automate repetitive tasks, and repurpose your workforce efforts for more valuable tasks.
Secure Digital Workplace: This can often cut costs from real estate rentals that might not be essential while at the same time boosting overall productivity. Think about which parts of your business can be operated remotely.
The Corporate Capital Difference
Corporate Capital in Las Vegas, Nevada, is here to support your business as you rebuild to get back on track after the pandemic. Our licensed professionals and legal experts have been helping businesses succeed for many years. Our one-stop shop has successfully supported corporations and LLCs across the country. We help you start your business and keep it running by managing your books and taxes. As your business emerges from these challenging times, we provide bookkeeping and accounting, payroll, build business credit, secure business loans, tax preparation so your business can benefit from Nevada's asset protection and tax treatment. Give us a call at 855-371-0070 to learn more. Your future is truly our future!