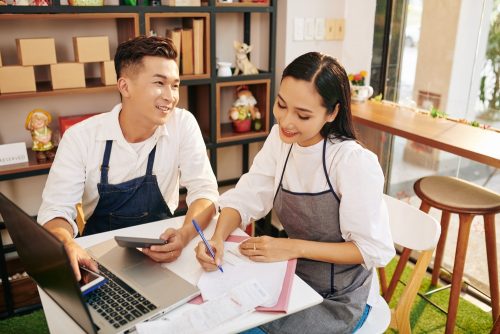 Do you run a business being the sole proprietor? If so, did you know that you currently have no legal or financial separation between you and your company? It essentially means that when you try to get credit or funding, it will be tied to you, personally, and potentially impact your personal credit reporting, for better or worse.
This matters because, when it comes to your business (whether you are established or brand new,) you will typically need to be able to gain access to financing and credit so you can continue to fund your company at the appropriate time. This is true whether you are a fledgling startup or looking to grow your current company. Giving yourself this edge will help you create a strong business credit profile from the get-go, as your business credit reports are generated by major business credit bureaus including Dun & Bradstreet, Experian, and Equifax.
Who might want to evaluate your business credit report? Potential creditors, lenders, insurance companies, and suppliers, for starters. Being able to fund your company goes a long way to ensure your current or future business goals achieve the success you envision. You want to generate a credit file for your company that isn't tied into your personal credit file, and by registering it, you can take on contracts as a separate legal entity. This is true whether you register it as a corporation, LLC or LLP. This buffer helps you maintain separation from your personal and business finances so you can build your business's credit. Again, whether you are a Nevada corporation or Nevada LLC, a Wyoming corporation or Wyoming LLC or incorporated in any of the other 48 states we can help!
How To Establish Business Credit
–Decide on the best business structure for your needs: We mentioned this above; you want to decide what is the best corporate structure for your business. This can play a huge role in building business credit properly and the financing options you will have available! Once you take the necessary steps your business will be able to become a legal entity of its own so you can register it and separate yourself from the business and ultimately the credit history.

–Apply for your Federal Tax ID Number (EIN): The IRS assistance tool allows you to apply for your EIN without charge. Once you have established your EIN, you can open your business bank account, seek permits and licenses, request business credit, and file your business tax returns. Many business owners will have an EIN that is tied to them as a sole proprietor and not a corporation or LLC. It is important to make sure your Employer Identification Number (EIN) is tied to the correct vehicle.

–Create your business bank account: To make sure your company and personal expenditures are separated, you will need to create a business bank account using your federal tax I.D. It will allow your business to be funded as it grows. As a bank reference, it will help you when you apply for credit and whenever potential lenders are checking into your business history. It is also important to have a physical business address to build the credit. Without this, you will find yourself in a position where your business can be red-flagged. Once you are red-flagged in the business credit building world it is very difficult to reverse that trend!

–Set up credit with your vendors and suppliers: Whenever you purchase inventory or supplies using credit, your payments will be reported to credit reporting providers, leading to your business's credit profile and payment history. As you have a few reported histories in place, you will create a credit rating score for your company. This, in turn, can help you when you apply for more funding down the road. The trick is knowing which vendors do and do not report. Many vendors will only report the negative credit history and not the positive. It is imperative to work with vendors that will report all credit history so you can build an adequate credit profile!

–Track your company's credit reports: We already mentioned the three major credit reporting companies above, and you will want to keep an eye on your business's credit files. This way, should you find inaccuracies, you can update basic information on your company by reaching out to the credit reporting agency. The reward for having a solid business credit report is that you can apply for higher credit amounts and get the best interest rates as well as for loans or lines of credit, you may also apply for better repayment terms. Lastly, many business owners do not know that can challenge or dispute a negative credit report. In many cases these negative credit scores are removed without much resistance but the key is knowing how to remove these items effectively.
How Corporate Capital Can Help
If you would like more information about maximization for your company, our Corporate Capital team of licensed professionals and legal experts have the one-stop-shop skills and resources you need no matter where you reside in the U.S. From payroll solutions and bookkeeping and accounting services to help you build your business credit and secure business loans, we are ready to help! We welcome you to contact us today at 855-371-0070 to learn more about our team in Las Vegas, Nevada, and see what we can do for your company.
Article Sources:
https://www.investopedia.com/articles/personal-finance/120415/5-little-known-ways-reduce-small-business-taxes.asp
https://www.nasdaq.com/articles/how-to-win-business-through-tax-planning-2021-06-23